New ECD TOC Analyzer Monitors Glycol At Airports and Industrial Plants
NDR Technology Enhances Measurement Accuracy and Reliability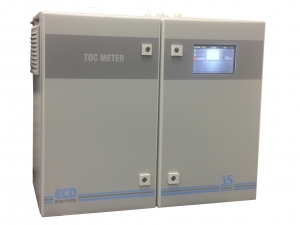 Anaheim, CA—February 25, 2020—Those responsible for managing wastewater run-off treatment from commercial or private airports, aerospace industry facilities, military bases and chemical processing plants will want to learn more about how the advanced Total Organic Carbon (TOC) Analyzer from Electro-Chemical Devices (ECD) helps them manage ethylene glycol and other waste streams to safeguard water resources.
While primarily used for industrial process and manufacturing applications, ethylene glycol is key component in de-icing solutions for aircraft and airport runways during cold winter months. It is also found in automotive anti-freeze, coolant and brake fluids.
With its non-dispersive infrared (NDIR) detection technology, ECD's TOC Analyzer helps pollution control engineers know that their wastewater treatment job is complete and that treated water effluent is ready for re-use or release.  Installing this analyzer helps facilities meet regulatory compliance requirements for treated facility storm or plant water with high confidence.
TOC analyzers measure the carbon in the organic matter that is nearly always present in water, whether it is surface water, ground water or treated industrial wastewater. Measuring TOC levels can be an important process variable when monitoring and controlling organic matter in water with residual glycol and other hydrocarbon pollutants.
There are many Industries and applications for ECD's TOC Analyzer.  They include drinking water, feed and cooling water in manufacturing, facility runoff water and wastewater being discharged to the environment where an accurate and reliable TOC measurement is required to protect the water supply.
ECD's TOC Analyzer is a full-featured instrument that utilizes the UV persulfate oxidation sensing method, which detects generated carbon dioxide (CO2) using its highly stable NDIR detector for analysis.   This method and the analyzer conform to: US EPA, DIN, CE, ASTM and NAMUR regulations, as well as ISO.
ECD's TOC Analyzer is simple to use: the water sample is first acidified and then sparged to remove inorganic carbon.  The remaining liquid is mixed with sodium persulfate and digested by two high-performance reactors.  The resulting CO2 is then stripped from the liquid and, after drying, its concentration is measured by the NDIR analyzer. The analyzer measures TOC's ranging from 0-5 mg/L to 20,000 mg/L, indicating the presence of glycol.
The advanced design of ECD's TOC Analyzer features a valve-free sample line, which largely eliminates blockages. The analyzer's auto clean, auto-calibration and auto-validation functions guarantee correct, reliable values that can be reproduced at any time without the need for manual intervention.
In comparison to conventional analyzers where the flow is controlled by a glass tube rotameter, the carrier gas flow with the ECD TOC Analyzer is controlled digitally. The flow is monitored via built-in smart diagnostics and if an abnormal value is detected, the analyzer stops automatically and displays a warning alert.
The rugged ECD TOC Analyzer is housed in a dual compartment enclosure.  The water sample components are in one compartment, and the electronics are located in a second compartment for safety and highly reliable operation.  The analyzer compartment is rated IP54, NEMA 3, and conforms to EN610004-2, EN610004-4, C46-022, EN 55022 and EN 61326.
The highly intuitive TOC Analyzer features a user touchscreen display located on the front of the analyzer.  All output/input data, status information, alarms and fault conditions are shown on the display.  Simply pressing the touchscreen buttons provides access to commands and settings.  The system is password protected for security.
TOCs in wastewater are regulated by the US EPA, state and local water quality standards. Many other industries rely on TOC measurement for analysis of wastewater prior to discharge. In addition, the power generation industries rely on TOC measurements for water quality concerning cooling water, condensate and boiler feed water.
---
About ECD Analyzers
ECD Analyzers is a subsidiary of Electro-Chemical  Devices, Inc., which is a manufacturer of liquid analytical process instrumentation. Founded in 1977, ECD has been in business for over 40 years and has built its industry leading reputation by its commitment to customers through this basic approach: Provide quality products, develop technical innovations and provide responsive, knowledgeable service.
ECD Company Contact: Eric Kim ● ECD Address:  1500 N. Kellogg Dr., Anaheim, CA 92807 USA
Web:  www.ecdi.com ● Email: [email protected] ● Tel: 800-729-1333 Tel: 714-695-0051 ● Fax: 714-695-0057
Editor's Contact: Randy Brown ● Tel: 909-223-6700 ● Email [email protected]
https://ecdi.com/wp-content/uploads/2013/04/ecd-logo-trans.png
0
0
ECDI
https://ecdi.com/wp-content/uploads/2013/04/ecd-logo-trans.png
ECDI
2020-02-25 06:00:34
2022-03-13 18:05:03
New ECD TOC Analyzer Monitors Glycol At Airports and Industrial Plants