Free Chlorine Analyzer Requires No Reagents To Provide Accurate Monitoring at Economical Cost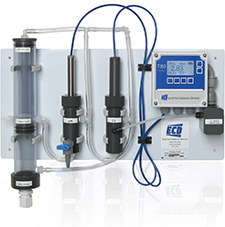 Anaheim, CA—January 24, 2017—Municipal water engineers and technicians who want a more economical and simpler way to ensure the disinfection of water with chlorine systems will find the FC80 Free Chlorine Analyzer from Electro-Chemical Devices eliminates the need for expensive reagents while providing highly accurate measurement performance.
The plug-n-play FC80 Free Chlorine Analyzer installs quickly right out of the box.  The FC80's advanced panel mount design includes built-in flow control, which eliminates the need for complicated pressure regulators and rotometers.  Built-in automatic pH compensation with ECD's highly intelligent S80 pH Sensor also eliminates the need for expensive reagents to reduce maintenance and life-cycle costs.
The dependable FC80 Analyzer monitors free chlorine in drinking water from 0.05 – 20 ppm chlorine as the standard range or 0.01 – 5.00 ppm with the low range sensor. The FC80 is compliant with EPA method 334.0 for measuring drinking water.  It also supports industrial applications including rinse water, cooling water or other fresh water sampling.
The FC80's panel mount design incorporates a constant head flow control device, a pH sensor, a chlorine sensor and ECD's T80 analyzer/transmitter conveniently mounted on a PVC panel. Connect the sample and drain lines, connect the power and outputs and it is ready to use. Calibration is accomplished by DPD comparison.
ECD's T80 Analyzer is designed with an amperometric sensor.  This sensor measures only the only the hypochlorous acid component of the free chlorine and the analyzer calculates the balance using either the measured pH or a user defined fixed value.  The use of the pH sensor provides accurate compensation for samples between pH 6 and pH 9, thus eliminating the need for expensive sample conditioning systems to control the pH of the solution.
The free chlorine necessary for disinfection exists in solution as a pH dependent ratio of hypochlorous acid (~100% at pH 5) and hypochlorite ion (~100% at pH 10).  Chlorine has been a popular disinfectant for water treatment to ensure public health.  Disease causing organisms such as Cholera, Hepatitis A, Typhoid Fever and Dysentery are eliminated with Chlorine, along with slime bacteria, algae and molds that can grow in water storage facilities such as reservoirs and storage tanks.
There have been several other methods developed to measure chlorine in drinking water applications.  Colorimetric systems, for example, have been popular, but require the use of reagents that must be replaced monthly in order to ensure accurate measurement.  With its amperometric sensor design, the FC80 eliminates the need for expensive reagents and offers an economical operating cost for municipal water districts that must manage tight budgets.
The FC80 Analyzer is available with either 110-240 VAC or 24 VDC power.  Parameters
can be graphically displayed with user defined line, bar or gauge style graphs. The standard configuration has two 4-20 mA outputs, three alarm relays and a MODBUS RTU.
The user friendly FC80 is available with an Auto Clean option that includes a solenoid actuated spray cleaner using either 30 psi process water or air. An easily adjusted timer controls the period and duration of the cleaning cycle.
About Electro-Chemical Devices
Electro-Chemical Devices (ECD) is a manufacturer of liquid analytical process instrumentation. Founded in 1977, ECD has been in business for over 30 years and has built its industry leading reputation by its commitment to customers through this basic approach: Provide quality products, develop technical innovations and provide responsive, knowledgeable service.
Company Contact:  Ryan Balgos
Company Address:  1500 N. Kellogg Dr., Anaheim, CA 92807 USA
Web:  https://www.ecdi.com  Email:  [email protected]
Tel: 800-729-1333 Tel: 714-695-0051   Fax: 714-695-0057
Editor's Contact: Randy Brown: 909-335-1941  Email:  [email protected] Web: www.rbmarketing.com
https://ecdi.com/wp-content/uploads/2013/04/ecd-logo-trans.png
0
0
ECDI
https://ecdi.com/wp-content/uploads/2013/04/ecd-logo-trans.png
ECDI
2017-01-28 00:05:18
2022-03-13 06:52:21
Free Chlorine Analyzer Requires No Reagents To Provide Accurate Monitoring at Economical Cost